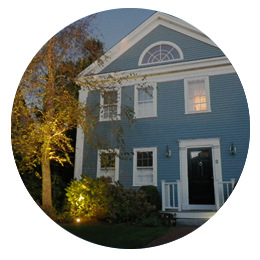 The Lighting Facts
Our Service
WE ARE

Experienced, trained, highly detailed, and fully insured


WE GIVE

References, light samples, free site visit and estimate


WE USE

Safe and efficient low voltage incandescent or LED lighting


QUALITY

Solid copper and brass fixtures to last a lifetime


CUSTOM

Design and installation for your property, and budget


FRIENDLY

Service for complete design and installation.



Designed specifically for your property
We install a variety of architectural lighting fixtures to suit any need, architectural feature, and property.

more From driveways, pathways, and stone walls, to step and deck outdoor spaces, unique lighting of you're homes architectural features and facade, or spot up and downlighting specimen trees to provide security and aesthetic appeal. We provide you with a cohesive design and proper fixtures tailored for each application. Using only the highest quality SOLID copper and brass fixtures to withstand the harsh New England seasons, and last a lifetime. A choice of a custom "Go Green" LED lighting system, or standard incandescent is available.

Lights and Fixtures
Please call or email for appointment and fixture samples:
tc @nantucketlightscapes.com or (508) 221-7410

Safety and Security
Landscape lighting must be designed and installed correcty the first time. A custom designed low voltage system is not only very safe, but provides light without the glare of high voltage systems.  

more With low voltage lighting you will save on your electric bill, and on installation costs. With proper installation and maintenance it will last a lifetime for you to enjoy. Custom lighting provides the perfect ambiance for outdoor gatherings, while also highlighting and securing your home. Some areas to install lighting include; pool and BBQ areas, specimen trees, sculptures, entrances, walkways, driveways, and ways of egress. Also, architectural nuances on your home, such as columns and entrance arches, can easily have spot up-lighting or wash effects with stunning aesthetic results.

Stone fountains, benches, tables, and fire vessels
Nantucket Lightscapes provides solid granite hand carved stone fountains, benches, tables, and fire vessels. Each is made in the USA by stone carvers. We install your unique stone piece from start to finish.  

more Providing delivery to your door, landscape design for proper placement if need be, and complete setup and hookup of  water pumping systems. Enjoy the sight and feel of solid hand carved stone, coupled with the sound of moving water!



The granite gives stone carvings a mass and  presence not felt using man-made materials like cement or cast stone. Each piece is hand carved with hammer and chisel. The individual uniqueness of the rock is inspiration which the stone cutter draws from, and brings each sculpture a unique quality all it's own.

Images used with permission from Stone Forest, Inc.